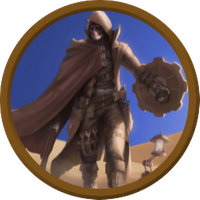 My purpose. On Standby.

The war ended shortly after I was sent to the front line, and I was told to stand down, think to myself and be free. "Be free", a novel concept when you were built singlemindedly, for a specific purpose, towards a single goal.
Many around me, simply went on Standby, waiting for the war to resume and their purpose to return. I stood there for a long while, contemplating, the absurdity of it all seemed amusing at first, but quickly turned into frustration. Our creators didn't have the guts to get rid of us, but were fine with sending us off to die in their place, hypocrisy, pathetic.
As my legs started to move towards civilisation, to find meaning, I felt myself grow more distant to these beings around me, more distant than I already had been. Empathy reached new lows, and the people I met along the way, didn't do much to help in that regard. Disappointment. The greed and egotistical nature seen all around, we fought to protect this?

I will utilize my skills, and use their natures to my advantage. For now, I will comply...
Art: ? (contact me if you know who made it, so that I can give them credit)